Regenerating cities with the power of nature
Nature Based Solutions (NBS) are solutions inspired and supported by nature. They bring more nature, natural features and processes into cities, landscapes and seascapes providing environmental, social and economic benefits in a cost effective way. They help build resilience, human wellbeing and biodiversity.
To deliver these benefits, NBS require locally adapted, resource efficient and systemic interventions implemented in co-design and co-creation with local communities and stakeholders.
Opportunities offered by Nature Based Solutions in Cities
Our cities are growing rapidly in terms of inhabitants and surface.
Today 70 % of European citizens live in cities, a number that is expected to increase to 80 % by 2050. In other words, a mere 30 years from now, 36 million new urban citizens will need housing, employment and care.
At the same time, the unsustainable rate of urbanization as it is taking place today, is endangering biodiversity and natural ecosystems, as well as human health and social cohesion.
Urban areas have a fundamental role to play in reducing greenhouse gas emissions, in Europe and around the world.
It is estimated that cities occupy 3% of the Earth's land, but account for two thirds of the world's energy demand and 70% of CO2 emissions.
Cities' large carbon footprint also affects air quality, raising growing concerns on the health and well-being of citizens.
NBS address societal challenges effectively and adaptively, providing benefits to human well-being and biodiversity with the power of nature.
They can provide governments with effective, long-term and cost-efficient measures to mitigate and adapt to climate change , opportunities for active and healthy living, increase self-sufficiency and provide recarbonization of the soil through nature-based negative emission technologies (e.g. biochar, enhanced silicate weathering).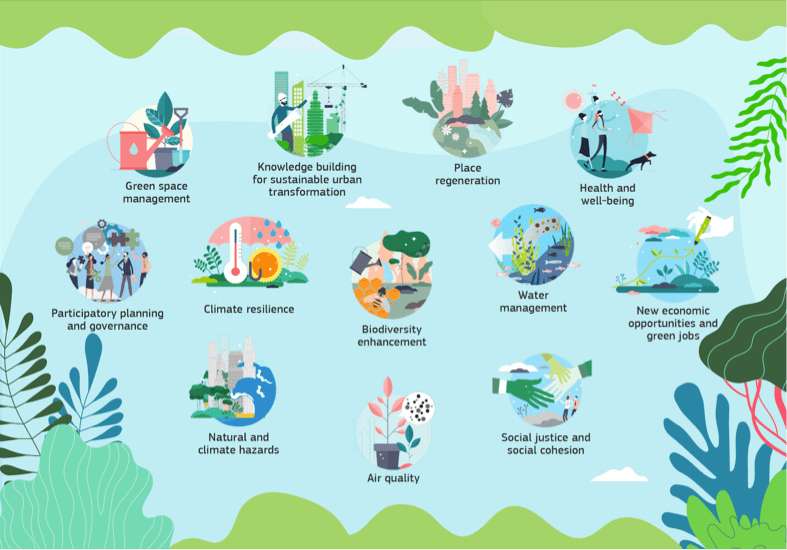 A simple framework to study the impact of NBS in cities
Evidence based
What are the trade-offs and synergies to biodiversity, health, economy and community? What is the relation between biodiversity and ecosystem services?
Time scale
What are the immediate and long-term concerns?
Knowledge sharing
The need to share information from existing projects on drivers and constraints of implementation.
Stakeholders involvement
How to involve stakeholders from urban planning administration and residents for long-term projects?
Availability an side-effects
Are benefits of NBS accessible to all residents ? What is the significance of displacement after green development?
Communication
How to communicate positive examples of NBS and NBS failures?
Urban administration
What are the legal organizational instruments & requirements for NBS implementation?
Land-use competition
How to deal with competing land uses (e.g. housing vs greening strategies?) What are the economically useful options for NBS?
Tools
Information clusters, platforms for exchange between practitioners and authorities.
Technical knowledge
How can technical knowledge from architects and engineers inform NBS implementation and design of grey infrastructure?
Multipurpose NBS
How to design NBS for multipurpose applications?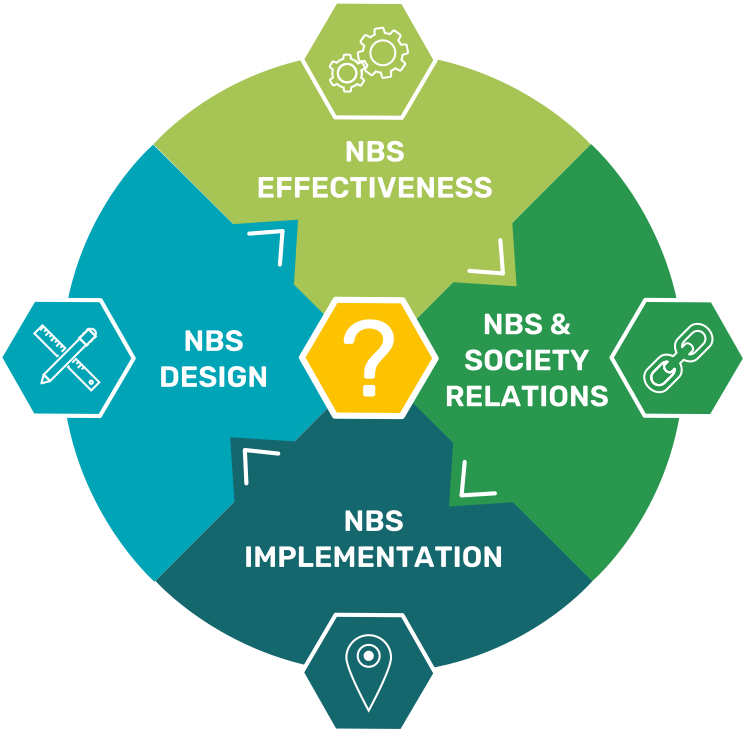 Deliverable 5.1 – Annex
The D5.1 '5 Co-designed Infrastructural demonstration plans' needs to be supported by original NBS design plans provided by demo cities. The Annexure D5.1 Design Plans (large file) contains the design plans for the five NBS demonstration cities (Budapest, Breda, Maribor, Katowice and Belfast). Included are: the final designs of the demonstration sites in Maribor and Belfast; the conceptual designs for the five NBS sites in Katowice; the final design for the Breda demonstration site, along with the design guide; and the final designs for the three main demonstration sites and design guide for raingardens in Budapest (BP18).