Map of demo sites locations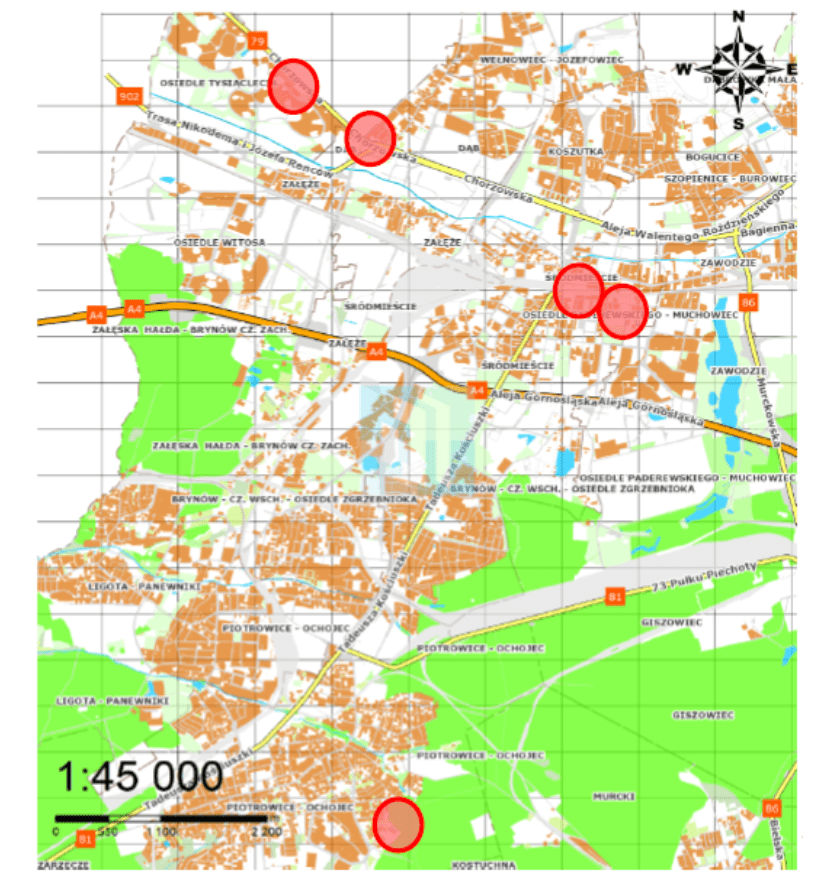 Demo site 1 before NBS installation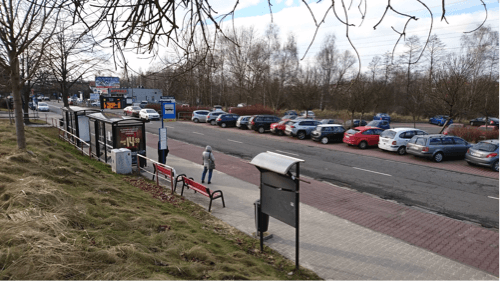 Demo site 2 before NBS installation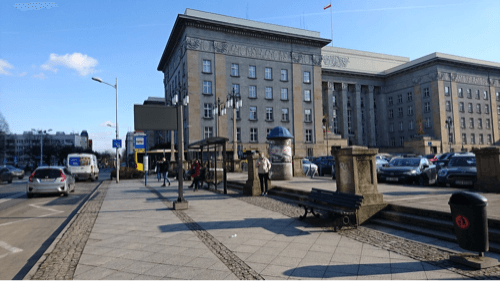 Demo site 3 before NBS installation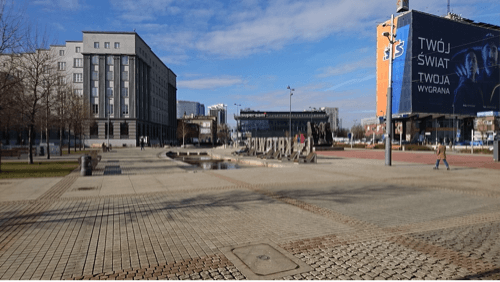 Demo site 4 before NBS installation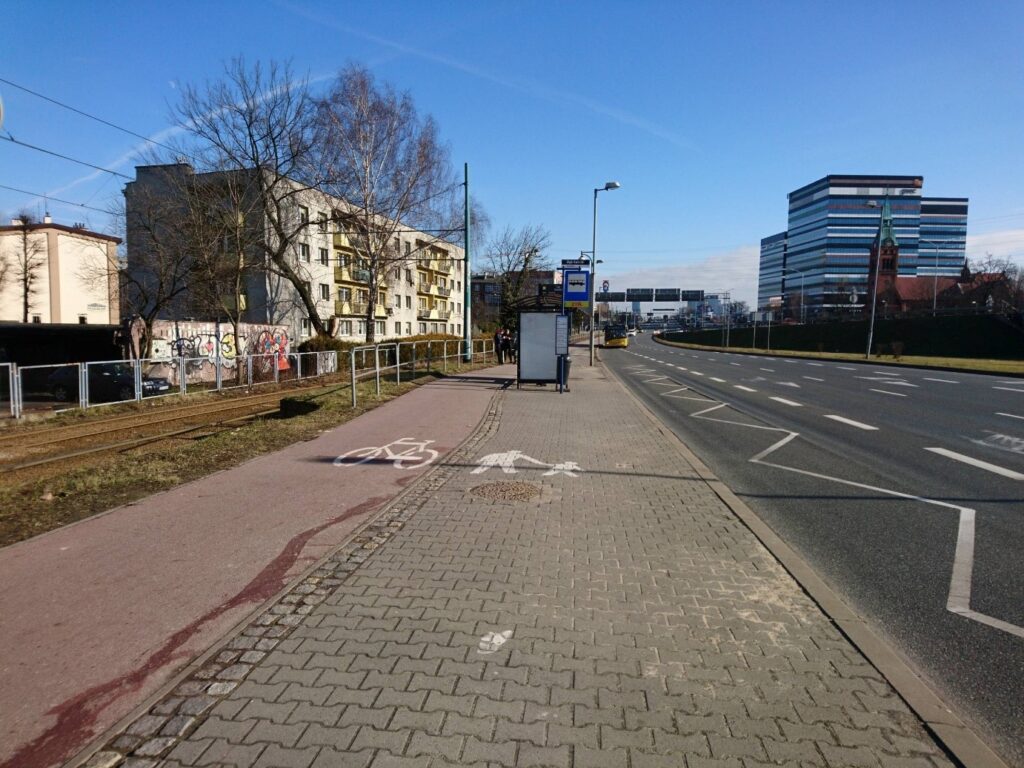 Demo site 5 geolocation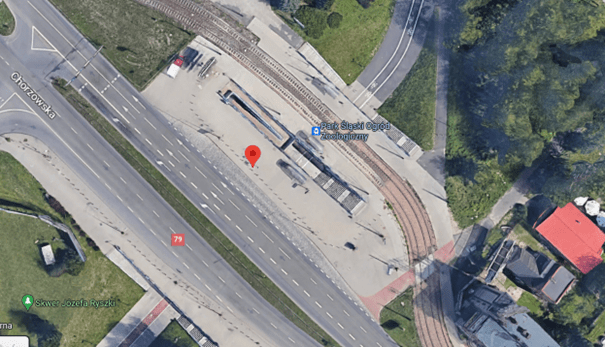 Demo site 5 before NBS installation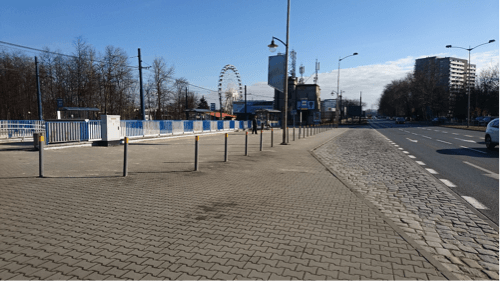 Katowice will test several NBS that can be implemented at the micro-urban level
Katowice demo will implement a network of micro-location NBS, such as urban furniture (e.g. NBS-based benches and microalgae trees) and urban facility fixtures (green walls with pollutant-specific plants and vertical gardens) in public areas. The NBS will use native plant species (plants spontaneously growing on urban and industrial areas) and plants recommended for use in urban greenery.
Katowice is a Polish city in the Silesian Voivodeship, which is an important socio-economic point. Residents and visitors of Katowice study, work, relax and receive treatment in specialized hospitals. As a result, there is a high concentration of people in traffic and concrete surfaces that create an urban heat island that is extremely unfriendly to life, surrounded by busy streets where rainwater disappears into drains moments after rainfall.

Katowice will create 5 pilot points – 4 green stops and an urban area in locations with high heat island indications for Katowice. The locations were chosen on city land. The green points will have diverse objectives:

environmental (reducing heat island, increasing water retention, increasing biodiversity, providing other ecosystem services),
social (positive impact on health and well-being),
educational (test stations and information boards to educate the public about vegetation, retention, air pollution and causes of heat islands and mitigation measures).

Katowice has selected the following Nature Based Solution (NBS) points:

Bus stop Ochojec – Hospital at Ziołowa Street in Katowice: the point is located next to a large parking lot, where the level of air pollution is high and the concrete surface promotes the formation of an urban heat island. Despite the high density of the site's reinforcement, it will be possible to plant trees. The site will be landscaped with low green infrastructure in the form of shrubs, perennials and ornamental grasses. A sensory garden will also be created.
Bus stop at Jagiellońska Street in Katowice: the spot is located among strictly built-up areas and the surface is made of pavement. The area will be unsealed and landscaped with greenery in the form of low shrubs, perennials, grasses and climbers, possible tree planting.
Urban area between Korfantego Street and Market Square in Katowice: this area is located in the very center of the city, and is therefore surrounded by buildings and paved sidewalks. It is planned to unseal the pavement and introduce plantings compositionally related to the vegetation already developed in the area.
Bus stop "Dąb Kościół" at Chorzowska Street in Katowice: the point is located on a very busy street and is therefore characterized by high noise, air pollution and urban heat island. Nature-based solutions (NBS) will be introduced, including ornamental shrubs, perennials, grass and climbers.
Bus stop "Park Śląski Ogród Zoologiczny" at Chorzowska Street in Katowice: this site is very challenging due to the unfriendly terrain. A large number of green plants in the form of ornamental shrubs, perennials, grasses, climbers on supports will be introduced.

In addition, bus shelters at selected bus stops will be replaced with shelters with green roofs. The selected vegetation will be easy to maintain to minimize expenditures (including water, maintenance). The selected points, despite diverse challenges, including lack of shade, urban heat island phenomenon, high air pollution, lack of retention, high density of land reinforcement, noise, unfriendly landforms, will be model examples that can be implemented in other cities.
Revitalization of areas – changing the character of urban areas to a greener one.
Changing the microclimate and reducing extreme temperature.
Increasing water retention by unsealing paved surfaces and providing greenery with positive effect on accumulation of water in the ground and in vegetation.
Decreasing air pollution (including PM) and noise pollution through plant species acting as sound-absorbing barrier.
Improving physical and mental health of inhabitants.
Involving the public in the everyday ecological aspects of the city's functioning.